Grilled Pork Loin Sandwiches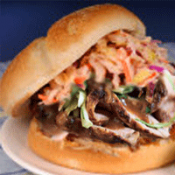 Approximate Prep Time: 10 minutes
Approximate Cook Time: 45 minutes
Serves: 8
INGREDIENTS
From Weiss Meats:
2 1 lb center cut pork tenderloin roasts, trimmed
1/2 cup Roast Pork and Chop Rub
From Your Grocer:
1/4 cup hot jalapeño jelly
1 tsp water
1/4 cup chopped cilantro
1/4 cup sweet hickory tomato-based barbecue sauce
1/4 cup ranch dressing
1 cup of fresh bagged (undressed) chopped coleslaw
8 (1 1/2-ounce) hamburger buns or Kaiser rolls
PREPARATION
Set grill to medium high heat.*
Combine water and jelly and set aside.
Coat pork loins with Roast Pork and Chop Rub, rubbing into the loins well.
Grill, covered for 15 minutes turning every 5 minutes or so.
Meanwhile, combine ranch dressing, cilantro, slaw and barbecue sauce in a small bowl and place in refrigerator.
Brush pork with jelly mixture and grill an additional 8 minutes, or until a thermometer inserted into the center of the loins reads 155°.
Remove pork and cover with foil, allowing it to rest for 10 minutes.
Cut rolls and toast over residual grill heat for about 2 minutes (depending on how toasted you like your buns).
Slice pork thinly against the grain and heap on buns.
Top with slaw mixture and enjoy!
*For charcoal grills, start grilling at the point that the coals have ashed over.

Reviews
Write Review
Your Name:
Your Review:
Note:

HTML is not translated!
Rating:
Bad
Good
Enter the code in the box below: