Grilled Cuban-style Pork Tenderloin Roll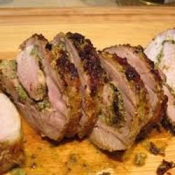 Approximate Prep Time: 25 minutes
Approximate Cook Time: 30 minutes
Serves: 8+
CLICK HERE FOR A PRINTABLE VERSION
INGREDIENTS
From Weiss Meats:
1 (3 pound) pork tenderloin, trimmed and butterflied (Just ask us to trim and butterfly it for you.)
6 sliced Kosher dill pickles
6 slices Swiss cheese
From Your Grocer:
6 tablespoons whole-grain Dijon mustard
1 cup chopped fresh cilantro
Cooking Oil
3/4 teaspoon Kosher salt
3/4 teaspoon Cracked black pepper
PREPARATION
Open and lay the tenderloin flat.
Place tenderloin between plastic wrap.
Pound to 1/2-inch thickness using a meat mallet or heavy skillet.
Spoon the mustard onto the center of the tenderloin and spread it outward for even coverage with a spatula.
Sprinkle cilantro over the mustard.
Slice the pickles lengthwise, evenly into thin slices.
Arrange pickles evenly over pork, covering completely
Lay out Swiss cheese slices over the pickles.
Roll up into a tight roll and secure with butcher's twine (click here and watch the first minute if you need a demo).
Rub the entire roast with cooking oil to coat.
Sprinkle evenly with salt and pepper.
Rest meat, covered, while preheating your grill to medium-high heat.*
Place the pork on the grill rack.
Grill for at least 12 minutes, then turn.
Continue cooking until the internal temperature registers 155°.
Remove from grill.
Rest under foil for 5-10 minutes.
Cut into slices and serve with rice or your favorite sides.

*For charcoal grills, start grilling at the point that the coals have ashed over. This may require starting your grill earlier in the process.

Reviews
Write Review
Your Name:
Your Review:
Note:

HTML is not translated!
Rating:
Bad
Good
Enter the code in the box below: