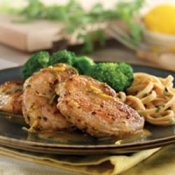 Total Prep Time: 15 minutes
Total Cook Time: 25 - 30 minutes
Serves: 4
CLICK HERE FOR A PRINTABLE VERSION
INGREDIENTS
From Weiss Meats:
1 lb of pork tenderloin, cut into 1 dozen medallions
From Your Grocer:
About 1/2 tsp salt
About 1/2 teaspoon fresh ground pepper
About 1/2 cup of flour
2 TBS butter
2 TBS olive oil
1 cup chicken broth
1/4 cup white wine
2 cloves of garlic cloves, minced
2 TBS pine nuts
1 TBS capers, drained
1/2 a lemon, sliced very thin
Juice of 1 lemon
1 tsp fresh, chopped rosemary
PREPARATION
Add olive oil to a large nonstick skillet set to medium heat
Using a mallet and gentle strikes, pound out pork medallions to 1/4 inch thickness.
Add the flour, salt and pepper to a large zip top bag plastic bag and shake to mix.
Add the pork medallions, 2 - 3 pieces at a time, and shake to coat.
Add coated pork to the skillet 3 - 4 slices at a time (depending on the size of your skillet) until lightly golden brown.
Remove and cover to keep warm.
Add the broth, wine, lemon juice and garlic to the pan.
Bring to a boil, stirring often until the liquid is reduced by half.
Stir in the capers, lemon slices and rosemary and cook until lemon slices become tender.
Finish by adding the pine nuts and the butter to thicken the sauce.
Return medallions to the pan to coat and then move everything to a serving platter.
Reviews
Write Review
Your Name:
Your Review:
Note:

HTML is not translated!
Rating:
Bad
Good
Enter the code in the box below: