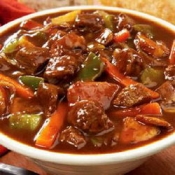 Serves 4
INGREDIENTS
From Weiss Meats:
Two 1 lb NY Strip Steaks, cut into bite sized cubes
From Your Grocer:
4 TBS vegetable oil
1 1/4 tsp salt
8-10 grinds of fresh black pepper
1 onion, chopped
2 green peppers, chopped.
1 cup of baby carrots.
1/2 cup of mushrooms, sliced.
3 crushed cloves of garlic, minced fine.
3 cups water
3 baking potatoes, peeled and cubed.
4 cups beef broth
2 tsp Worcestershire sauce
Optional: Sour cream for topping.
PREPARATION
Add vegetable oil to a large stockpot.
Add steak pieces and minced garlic.
Sprinkle steak with salt and grind on the black pepper.
Cook for about 3-4 minutes until browned, stirring with a wooden spoon.
Remove steak with slotted spoon and set aside.
Add onion, carrots, green pepper and mushrooms and cook until tender, approximately 5-6 minutes.
Add 2 cups of the water, stirring to mix with oil and onion.
Reduce heat to low, add steak pieces, potatoes, beef broth and Worcestershire sauce.
Cook over low heat 20-30 minutes, stirring occasionally.
Add remaining cup of water if soup becomes to thick.
Optional: top with a dollop of sour cream.
Serve and enjoy!
Reviews
Write Review
Your Name:
Your Review:
Note:

HTML is not translated!
Rating:
Bad
Good
Enter the code in the box below: