Whether you're looking for a delicious smoked ham, a flavorful pork roast, or the perfect chop, our meat cutters will be happy to help you make your selection.
All of our pork is USDA inspected and carefully controlled for maximum freshness. Your meat cutter will be happy to custom cut your order to your specifications.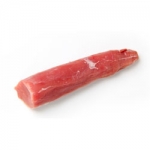 Pork: Filet Tender
The "Filet Mignon" of pork. The filet is prized for its melt-in-your-mouth tenderness and rich flavor. per lb.
Showing 1 to 1 of 1 (1 Pages)