Authentic Chicken Enchiladas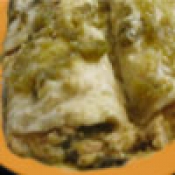 Approximate Prep Time: 30 minutes
Crockpot Time: 5 hours
Approximate Cook Time: 40-45 minutes
Serves: 6+
This is a longer recipe, but actually pretty easy. To make it a bit simpler to follow, it's been broken into five steps. The cheat here is using a few cans of prepared Enchilada Sauce, but other than that, it's as authentic as you can get.

INGREDIENTS

From Weiss Meats:
6 Large Boneless Chicken Breasts
From Your Grocer:
2 fresh jalapeño peppers (diced)
1 package of fresh cilantro (chop about 1 tbsp)
1 medium white onion (diced)
4-6 cloves of garlic (diced fine)
2 small limes, zested and squeezed
1 TBSP Cumin
1 TBSP Oregano
Salt to taste
2 lbs Monterey Jack Cheese (shredded)
1 small can sliced black olives
1 small can sliced green chilies
1 large container sour cream
2 large cans Green Enchilada Sauce
3 cups rice
1 package of small white corn tortillas (about 24)

PREPARATION

Step One:
Add Chicken Breasts to a crock pot and cover with water
Add Cumin and Oregano
Seed and dice jalapeños (removing the ribbing from the peppers if a milder flavor is desired)
Chop onion and garlic
Cook jalapeños, garlic and onions until tender and allow to cool
Move to a covered container and store

Step Two:
After Chicken has been allowed to cook for 5 hours, remove chicken and allow to cool
Cook rice using broth from crock pot seasoning with salt and pepper to taste
Shred Cooled Chicken by hand or with a fork
Once rice is cooked, add in chicken, lime juice, lime zest, cooked onions jalapeños and garlic, cilantro, green chilies, 1/2 of the sour cream, 2/3 can of enchilada sauce, and mix to combine
Add remaining broth, as needed, to keep mixture creamy but not too thick
Taste and add salt if needed
Cool mixture to room temperature or slightly below

Step Three:
Boil a small amount of water in a pot large enough to dip tortillas into
Using tongs, dip tortillas in water for about 5 seconds (to help keep tortillas from breaking)
Set on foil or wax paper to cool to "handling temperature" if needed
Pour 1/3 a can of green enchilada sauce into a large rectangular casserole pan
Add filling mixture to tortillas one at a time and roll, placing the rolled side down the casserole pan
Cover finished tortillas with the other can of enchilada sauce
Sprinkle on 1/2 of the remaining cheese
Cover with black olive slices
Sprinkle on remaining cheese

Step Four:
Bake, lightly covered with foil at 350 degrees for about 35-40 minutes or until warmed through
Remove foil and, checking carefully, broil for about 5 minutes until cheese is bubbly and lightly crispy on the surface

Step Five:
Freeze any remaining filling inj a zip top bag for another batch of enchiladas, or to serve as a dip with good tortilla chips. leftover enchiladas also freeze well in pairs for a quick meal in the future, or keep well in the fridge for a day or two - if they make it that long...

Serve with refried beans if desired.

Reviews
Write Review
Your Name:
Your Review:
Note:

HTML is not translated!
Rating:
Bad
Good
Enter the code in the box below: