High in Omega-3 fatty acids, fish's heath benefits are well known.
In fact, the American Heart Association recommends at least two servings of fish per week to help prevent heart disease, lower blood pressure, and reduce the risk of heart attacks and strokes
We carry a great selection of the best freshwater and saltwater fish available, so there's never been a more delicious way to eat your way to good health.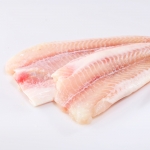 Fish: Pollock Filet
Tender and flaky and full of flavor, pollock is a long time favorite with a mild, clean taste. Sold by the 10 lb package.
Showing 1 to 1 of 1 (1 Pages)